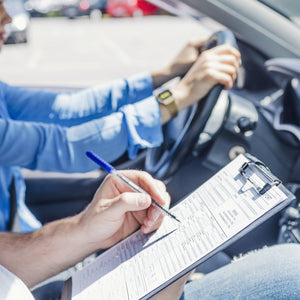 NOTICE: If you plan on using a car with temporary license plates or plan on using a lifted vehicle, please call our office first! (972) 539-6992
Take your road test through Vista Ridge Driving School, a DPS-authorized third-party testing location. 
The Third Party Skills Testing (TPST) program was implemented on September 1, 2014 authorizing Commercial Driver Education schools that meet requirements set by the Department to administer the driving skills examination.
Vista Ridge Driving School is an approved Third Party Skills Testing school and may administer the driving skills examination to those who meet the criteria.
Please bring the following items printed about ten minutes before the scheduled start-time of the test:
If you are 16 years of age or older (or, over 18 years of age who took a teenage driver's course):
If you are 18-24 years of age:
If you are 25 years of age or older:
If you are older than 25 and are applying for a Texas driver license for the first time, you are not required to have completed driver education, however it is highly recommended.
The DPS-approved Road Test fee is $75.00. All testing clients are welcome to reserve in advance the use of a Vista Ridge Driving School vehicle for their road tests, for an additional fee of $50.00. If possible, please contact us ahead of your scheduled road test, in order to confirm the availability of a road test vehicle. If you decide to use your personal vehicle for the road test, this vehicle must have a current inspection/registration sticker, front and rear license plates, and printed proof of vehicle liability insurance.
If you need to reschedule your road test, you must give Vista Ridge Driving School a minimum notice of 72 hours. There is a $25 reschedule fee if you contact us within the 72 hour window of your road test. The same window applies for a refund/test cancellation, you must contact the school with a minimum 72 hour notice to be eligible for a refund.
Be prepared for your road test! Download these road test resources.